Introduction to Glazing in Oils: How to Paint Blue Glass / Online Workshop
3rd, 10th and 17th of October / 10:00am - 1:00pm
Online via Zoom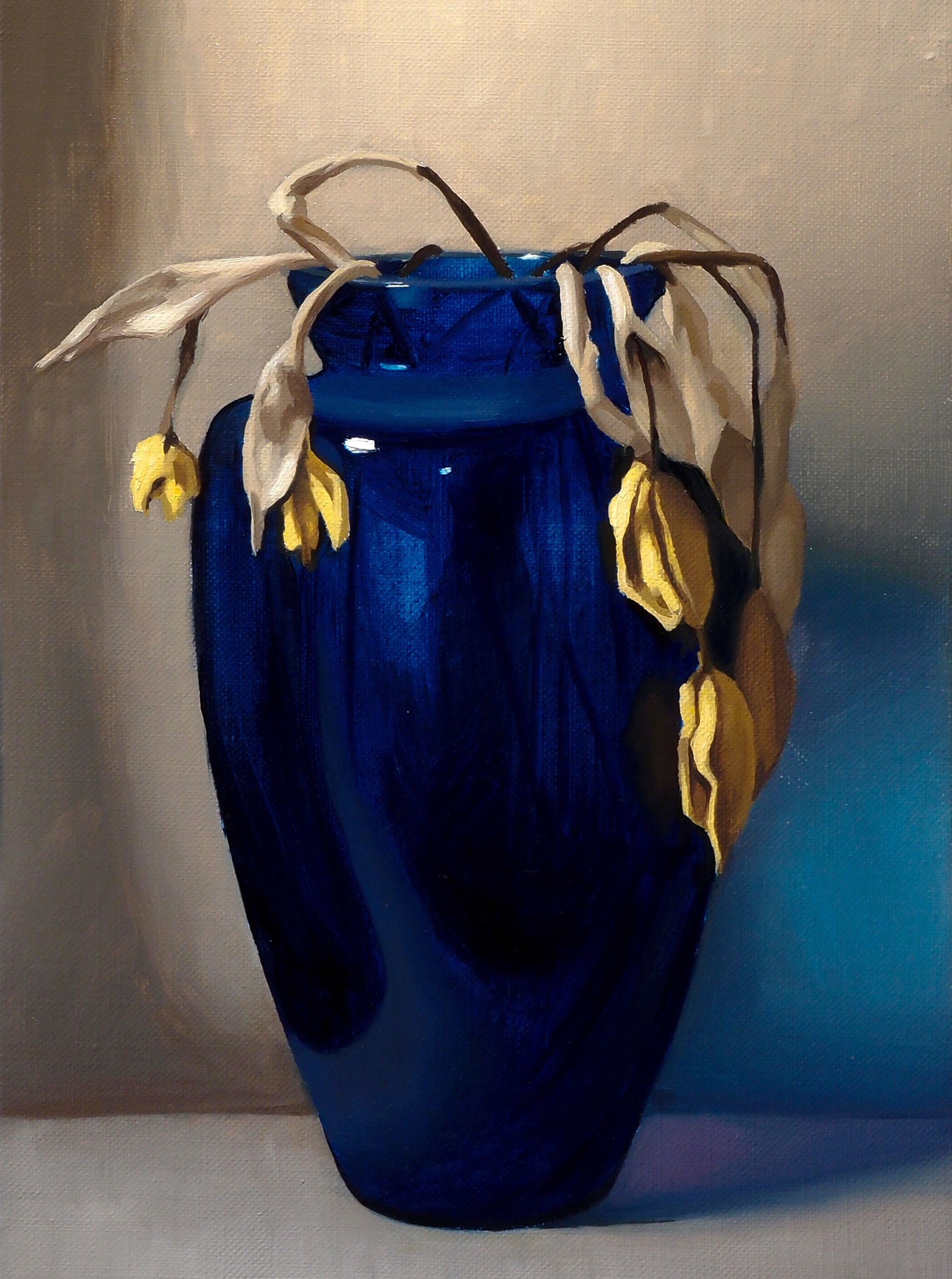 This online workshop will introduce you to the basic principles of glazing in oils.
REVISED DATES*
Sunday the 3rd, 10th and 17th of October
10:00am - 1:00pm each day
We will be painting a bright blue glass vase (and flowers) over the course of three consecutive Sundays. The painting will be able to dry completely each week, ensuring that the subsequent glaze layers will work correctly.
By signing up for the live workshop you will also gain access to recordings of all the sessions so that you can rewatch them in your own time.
All my workshops have two tiers of tickets: Full Workshop Passes and Watch Passes
These two options cater to all types of learners - from complete beginners through to experienced artists (and everyone in between).
You can find out more about the difference between these types of passes (and about the workshop generally) below.
*The image shown is for illustrative purposes only - we will be working from a brand new reference during the workshop.
How We'll Connect
The sessions will take place over Zoom, so you can work wherever you feel most comfortable - whether that's your home or your studio.
I'll be working from my own art studio in Sheffield, UK - with a webcam sharing me and my work, so you can watch the whole process of painting from start to finish.
What You Will Learn
The properties of oil paint that make it a suitable medium for glazing.
The difference between direct and indirect painting methods, and how these differences affect the appearance of the paint layer.
How glazing and scumbling can alter the temperature of the painting (warm vs. cool).
How to mix mediums for oil painting.
The difference between washing and dry brushing glazes + scumbles.
Using brushes to apply glazes.
Removing glazes.
Mixing colours for glazing.
And much more!
Workshop Plan
First Session:
We will begin with a bright blue glaze to define the placement of the glass vase. This section of the painting will be left to dry while we loosely paint in the background and flowers.
Second Session:
During the second session we will be developing the form of the vase by using more complex glazes and adding white highlights.
Third Session:
During the final session we will continue to refine the blue glass, background and flowers.
Notes:
If you are working alongside me during the session (both Full Pass and Watch Pass Holders) you will need to make sure you either print out the reference image in advance or have it up on a second device / screen so that you can watch me and work from the reference at the same time.
If you have any questions at all - feel free to email me at [email protected]
You can view the required materials for this course by clicking here.
Check your inbox to confirm your subscription